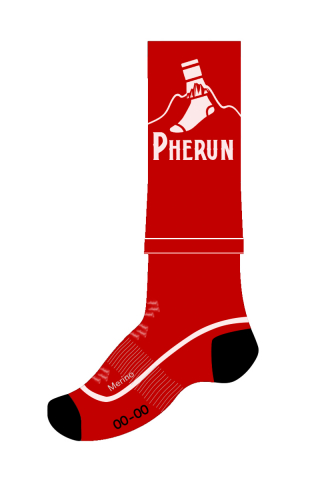 Merino Pherun Red
PHERUN - Merino socks are our TOP product. They were designed in cooperation with the German Mountain Rescue Service.
The special knitting in the instep part dissipates heat excellently and ensures a dry feeling in the shoe during long-term wear.
Please see the product description below, it contains very important and useful information.

Composition
Foot and ankle part: Merino 47%, 30% Polypropylene, 21% Polyamide, 2% Elastane
Sleeve part (protective collar): 80% Cotton, 18% Siltex (silver), 2% Elastane
Weight: approx. 105g
Suitable for use in summer and winter.
Because we love nature too and we care about every bit of it, all our packaging is made from recycled materials.
1. When caring for socks, make sure that you really observe the recommended washing temperature of max. up to 30 ℃.
2. The protective collar on the sock can be shortened by as much as 2 cm after the first wash, it is a normal phenomenon and we have taken this into account during their production. Never put them in the tumble dryer!
3. When walking in deeper and especially frozen snow, it is possible that the Pherun Logo, Pattern or Text will be a little bitter. This is due to the use of finer yarns that are less resistant to abrasion.
4. There are a few reasons why washing new socks before wearing them may be beneficial. First, washing new socks before wearing them can remove any dirt or debris that may have been left on the socks during the manufacturing process. Second, washing new socks before wearing them can help remove any sizing or other treatments that may have been applied to the socks during manufacturing. Finally, washing new socks before wearing them can help to ensure that the socks are not too tight or too loose, which can cause pressure sores.
How to correctly put on PHERUN socks, just click here and watch the video.